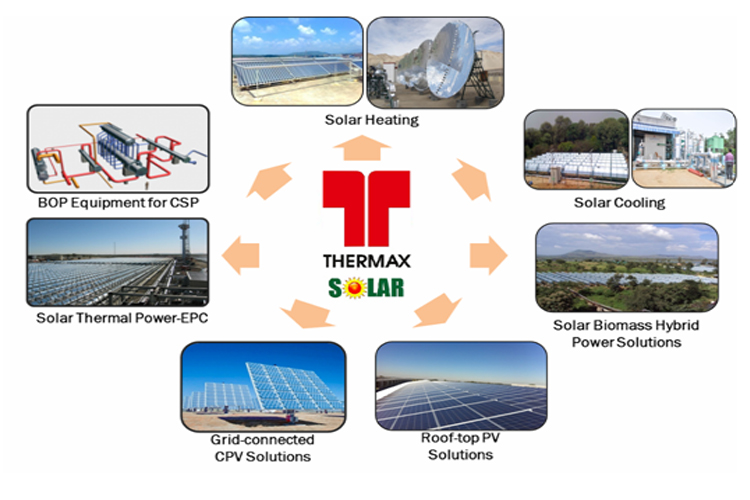 Thermax rooftop Solar Thermal Product Portfolio comprises Non-Imaging Collector, Parabolic Dish, and Parabolic Trough technologies. These solar rooftop concentrators are capable of delivering solar rooftop system solutions across a wide temperature spectrum (70-210°C) and can also be integrated with steam boilers, hot water generators, absorption cooling machines, etc. Due to this rooftop solar power plant system solar energy can complement other systems using fossil fuels or electricity thus providing heating and process or comfort cooling solutions.
Thermax also provides solutions for community cooking needs through its parabolic dish-based system for large cooking requirements and small parabolic dish cooker for smaller segments. In the solar power segment, Thermax's portfolio comprises about 60 (completed and under execution) power/co-generation projects totaling approximately 2000 MW on a turnkey (EPC) basis for its clients.
This turnkey methodology coupled with an in-depth understanding of over 100 different fuels enables it to commission fast-track power plants with wide fuel flexibility and assured performance standards.
Thermax provides EPC and O&M services for solar thermal power projects and solar photovoltaic off-grid and grid-connected power projects. Leveraging its alliance for technology with reputed global players, for off-grid and grid-connected photovoltaic projects; Thermax ensures optimal value delivered across the project value chain.
Offgrid/Solar Power Packs/Solar Retrofit Systems
Capacity Range : 1 KWp - 100 KWp(300 W - 1 KWp also available on special request)Product Features
Solar Standalone systems
No dependency on Electricity Board / DG sets
No running cost
No noise pollution
Reliable, sturdy and efficient Inverters & Controllers
Minimum maintenance cost
Grid Connected System/ Rooftop Solar Power Plant
Capacity Range: 5 KWp - 1 MW Product Features
Green, Clean and Eco friendly
Battery less Systems
Power fed to Grid 220V 1Ph or 440V 3Ph or 11Kv
Reliable, sturdy and efficient PCUs
Negligible maintenance cost
Highly efficient systems
Integrated data, event and fault logging
Turnkey Projects
The main solutions and value processes that we can offer you for your Rooftop Solar Power projects of MW scale are:
Complete execution of turn key projects-
Planning
Engineering
Project Management (Execution)
Supervision
Maintenance & Servicing
Continuous monitoring of Plant's performance
Plants Evaluation, Optimization & Improvements